You can check Serial number in every smartphone in same way. There are so many ways to check Serial number in Samsung mobile.
There is a USSD code available for Serial number which is also similar for every phone. Serial number also comes written on the box of your mobile. It is also written on the invoice or warranty card of your mobile.
Serial number for every product including smartphone, feature phone, tablet, laptop and other products are unique. And a product can have only one serial number.
What is Serial number
Serial number is a unique alphanumeric number for every product including iPhone, Android, tablet and feature phone. Serial number is allotted by manufacturer to all of its products.
The principle purpose of Serial number is to identify the devices. Serial Number is used to identify the Warranty status of any Samsung product.
There are few other uses of serial number. Every company uses serial numbers for the accounting of its product manufactured and sold.
Also Read: Samsung IMEI Number check
Serial number can't be similar for two phone across the entire world. Samsung smartphones serial number is a 11 digit number.
And all the digits has some meaning and include some secret information within them. For more information you can refer then image given below.
Also Read: How to find lost Samsung phone
---
Samsung Serial Number check
There are many ways to find the serial number for any mobile phone which we have discussed in this post one by one.
Samsung Serial number check code
USSD code to find Serial number is the most convenient way if you have physical access to your mobile device.
You can check any phone Serial number using USSD codes including Samsung feature phones and smartphones.
The USSD code to check IMEI & Serial number is *#06# but in some smartphones this code will only show you IMEI number of the phone.
There are some other working USSD codes to get serial number in Samsung phones.
Serial Number
Code
IMEI & Serial
*#06#
Newer Phones
*#12580*369#
Older Phones
*#197328640#*
*#*#197328640#*#*
Also Read: Samsung mobile secret codes list
Serial number on Samsung box
Serial number is also written on the box of your mobile. You can check your phone box to find the Serial number of your mobile.
How to get Serial number with Samsung settings
Samsung Serial number can also be find in about phone option in system settings. You can follow the simple steps to find Serial number in Samsung mobile:
Go to system settings.
Scroll down and tap on About Phone option.
Serial number is available here.
Serial number printed on back of phone
You can also find the serial number at the rear of Samsung phone if it is a sealed phone. And in non-sealed phones you can find the IMEI number and Serial number inside the rear cover.
Also Read: Samsung Warranty check serial number
Find Serial number in Samsung without phone
As we have already told you that you Serial number is already written on the box that comes with handset and it is also available on invoice or purchase proof of your phone.
If you don't have box or invoice with you then you can check your order history if you have purchased your mobile online.
You can again download purchase proof (invoice) of your mobile from order history in online shopping apps.
Serial number is also written on the back of sealed devices and it is written inside the back cover in non-sealed mobile phones.
Also Read: How to factory Reset locked Samsung
---
How to verify Serial number
If can verify Serial number of any mobile phone if it is valid or not then you can visit number of sites on the internet.
List of top internet sites those are capable of providing you all information after entering Serial number are given in the table below.
You should verify your mobile Serial number to confirm if it is valid or not and this can help you to inform the manufacturing date, country of origin, model number and more.
Find Samsung serial number online
If you have IMEI number of your Samsung phone then you can easily find the Serial number of your Samsung phone.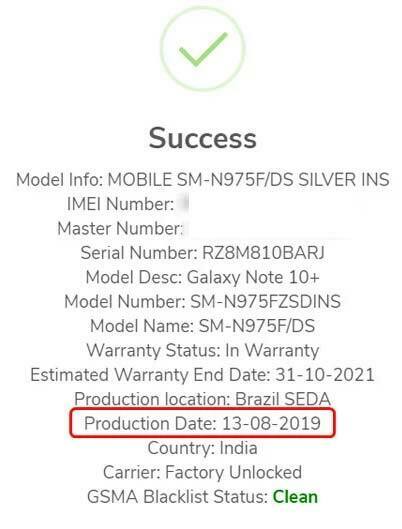 Visit any of the site from the links given in the table below and enter the IMEI number of your phone then you will get many information including serial number of your mobile.
We hope that you have found this post helpful and you are now able to check serial number of your Samsung mobile online.
If you still have any question or feedback then you can write to us in the comment section below.
---
Can you check Samsung serial number?
Yes, you can easily check serial number of Samsung phones. You need to navigate to Settings >> About phone. Here you can find Serial number of your phone. Serial number and IMEI numbers are printed on the back of the smartphone.
You can also find the serial number of the phone by dialing code *#06# on the dialer app. It will show you IMEI number as well as SN of the phone.
What does serial number of any product consist of?
Serial number is a unique number allotted by manufacturer to its product for its identification. Every brand has their own policy on allotment of serial numbers to their products.
Serial number generally consist of alphanumeric letters where few word denote the factory code, few word denote the month and year of manufacturing and few word denotes the model of the product and remaining word belongs to product unique ID.
How do I know if Samsung phone is original or refurbished?
You can easily check if your phone is brand new or refurbished using the following trick:
Open dialer app in phone.
Dial ##786# code, it will automatically open new windows in your phone.
Scroll down and find Reconditioned status.
If status is No, then it is not refurbished.
If status is Yes, then it is refurbished.
How many digits is Samsung serial number?
Generally Serial number of a Samsung Galaxy phone consist of 11 alphanumeric characters. It may be different number for different types of Samsung products.

What is the serial number of Samsung phone?
Serial number (SN) number is a unique hardware identification number allotted to a product by a company. It is allotted to every product to maintain a record of the products manufactured by the company. It also helps the company to provide the limited warranty on the product for a fixed time period.
More Related Posts