People stuck on Samsung account FRP lock screen after doing a factory reset in their smartphones. Removing Google account FRP lock in Samsung smartphones is a time-consuming process.
You can't use your Galaxy phone for any purpose if you have locked FRP account in your phone. You have to unlock it first to use your mobile.
There are many tools available which can remove Google account FRP in your Samsung phone in just a few clicks, but you need to have PC with you.
If you go to repair shop to remove the FRP lock for your Galaxy device then you may have to pay at least 500rupees, but you can do it at your home at free of cost.
You have to understand the things and spend some time to know the complete step by step process of removing Google FRP lock.
If you don't have PC and you want to remove Samsung account FRP lock then you have come at the right place.
In this post, we have discussed how to bypass google account FRP lock in Samsung Galaxy phones without PC at home.
Also Read: Samsung 2 steps verification bypass
Remove Google Account FRP lock in Samsung
Google account FRP lock is a security feature by Google which prevent Android smartphones to root and flash custom ROMs in them.
This security feature by Google was added from Lollipop (Android 5) and above Android versions.
If you remember Google account login and password then it is very easy to unlock your Google account FRP in your smartphone. But problem arises if you are unable to login with your Google account ID and password.
In this case you have to bypass the Google account FRP lock to use your smartphone again otherwise it will become useless.
FRP bypass in Samsung
You can follow the detailed steps to bypass Google account in Samsung Galaxy phones. Overview of the steps are given below.
Make sure your Samsung phone is connected with internet through SIM card or WiFi.
Activate Talkback in Samsung phone.
Open YouTube app to switch to Chrome browser.
Search and download Alliance shield app from any source on internet.
Install Alliance shield app.
Open and configure Alliance shield app.
Wipe Data for these three services.

Samsung setup wizard
Google play services
Samsung setup wizard

Open SetupWizardActivity in Alliance shield app.
Your Google account FRP will bypass automatically.
Now here we have explained all above-mentioned step in detailed.
Also Read: Samsung 2 steps verification bypass
Activate Talkback
Press and hold both volume keys (+ and -) in Samsung phone.
Tap on Use button.
Again press and hold both volume keys (up and down) for three seconds to use talkback .
Swipe right now to find the Next button.
Use voice commands "Ok Google" to open Google assistant.
Say "open YouTube" to launch the YouTube app.
Open Chrome browser
Follow these steps in the YouTube app.
Go to profile photo on top right corner of screen in YouTube App.
Tap on Settings.
Tap on About.
Tap on YouTube terms of service.
This will open in Chrome Brower
Install Alliance shield app
Search for the Alliance shield app on internet.
Download and install it in your mobile.
Configure Alliance shield app
Open the Alliance shield app.
Create user ID and login with it.
Enable device admin option.
Also enable Knox option.
Click on Finish option.
Note: If Knox is green then you can proceed.
Steps to Bypass FRP lock using A
You can do the following 3 steps to bypass FRP lock in Samsung Galaxy phone.
Step 1
Tap on App manager and search for Android setup. Now you can follow the given below simple steps in your Alliance Shield app.
Android Setup >> Actions >> Force Stop >> Wipe App Data >> OK
Step 2
Samsung setup wizard >> Actions >> Force Stop >> Wipe App Data >> OK
Step 3
Google play services >> Actions >> Force stop >> Wipe App data >> ok
Step 4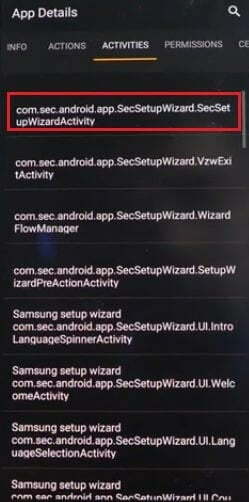 Samsung setup wizard >> Activities >> Open first service (com.sec.android.app.Sec.SetupWizard.SecSetupWizardActivity)
Tap on Next.
Click on Finish.
What is Talkback service
Talkback is a screen reader intended for situations or people who have difficulty in seeing the screen. It gives you spoken feedback so that you use your device without looking at the screen.
You can turn talkback on or off by holding both volume keys for several seconds. When talkback is on, the focused item on the screen is spoken out loud.
Swiping right will move to the next item and swiping left will move to the previous item.
You have all done and bypass Google FRP lock in your Samsung phone. We hope that you have found this post helpful to you then don't forget to share it on your social media handles.
What is Alliance Shield app
Alliance Shield app application requires you to register for an account at AllianceX.org. This app is for Business to manage the company devices. It is not intended for individual use. However, this app also allow individual users to use it.
Download Alliance Shield app
Alliance shield app is a very popular app manager application on the internet. This app is also available on the Google play store so it is also a trusted app.
Here we have provided direct download links from multiple platform for this app.
| | |
| --- | --- |
| File type | Android App |
| Extension | Apk |
| App Name | Alliance Shield |
| Purpose | App Manager |
| App Size | 9MB |
| Website | Android Alliance |
We have tried our best to provide the right information about Google FRP lock in Samsung Galaxy phones. If you still have any difficulty in following the above mentioned steps then you can ask in the comment section below.
More Related Posts