You are using your smartphone for a long time and now you find the performance of your Samsung phone is decreased very much.
It is not responding as fast as it was working whey you purchased it. Now giving a factory reset to your smartphone can fix many issues and can improve performance and battery life.
Hard reset, factory reset, master reset and format of smartphone all are same terms and do the same task so don't be confused in between these terms.
There are more than one way to factory reset locked Samsung phone with or without password. You can hard reset your Samsung mobile if you have its password or phone is unlocked.
But it becomes somehow tricky if you don't have Samsung mobile password and you want to do hard reset it.
In this post, we have discussed all possible ways to reset Samsung phone. We have discussed Samsung phone hard reset process in simplest way so that everyone can understand it quickly.
Also Read: 08 ways to Reboot Samsung phone
Why we need to Factory reset Samsung phone
We all know that there are many reasons when someone needs to reset its Samsung smartphone. Some of the main reasons for doing a factory or hard reset are as follows:
Samsung mobile is very slow.
Having many bugs in it.
Mobile is virus/malware infected.
Want to sell your Samsung mobile.
Handing over mobile to technician for repair.
Want to share mobile with friends or family member.
Samsung mobile is locked and forgot password.
Revert back to default system settings which cause problems and hard to undone.
It will uninstall unwanted third party apps installed in mobile.
Also Read: How to reset mi account password
Note: Giving a factory reset will erase everything from your Samsung phone including contacts, SMS, photos, videos, files and documents so make sure to take a complete backup of your smartphone.
It will also remove all settings, account logins and installed third party apps. So do a factory reset on your own risk.
How to Factory Reset Samsung phone
You can easily format or reset your Samsung phone in a few clicks. But it can be very serious to you as doing a hard reset or factory reset will erase all of your data stored in your device and saved settings.
So we recommend you to proceed this step very carefully and never (r) never forget to take complete backup of your smartphone.
Recommendation: 1) Make sure you have taken complete backup of your mobile. 2) You Samsung mobile battery is more than 50% charged.
Finally if you have made your mind to format your Samsung phone or tablet then follow the simple steps to hard reset your mobile:
Go to system Settings in Samsung phone.
Scroll down and click on General Management.
Click on Reset option.
Now click on Factory Data Reset.
Again tap on Reset.
Finally click on Delete All to confirm the process.
Wait for some time.
You mobile will reboot after some time.
Do the initial required setup.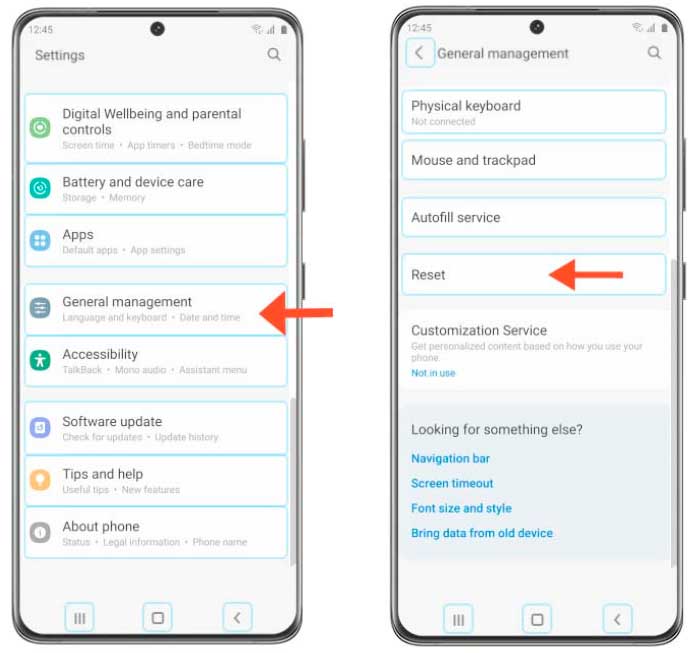 You can skip above mentioned steps and directly open the system settings and search for factory date reset. You will be routed to Samsung mobile factory reset option directly.
Also Read: How to lock & hide apps in Samsung
Reset locked Samsung phone without password
If you have forgot your Samsung mobile password and there is no way to recover it then giving a hard reset to Samsung mobile can erase everything including your lockscreen password.
You can now use your mobile and setup a new and easy to remember password to your Samsung mobile.
Hard Reset Samsung phone using Recovery
You can also factory reset your Samsung mobile from recovery option. Follow the simple steps given below to hard reset Samsung mobile using recovery:
Switch off Samsung mobile.
Press and hold Power button and Volume Up key simultaneously.
Samsung mobile will boot in recovery mode.
Use Volume up/down key to move up and down.
Use power button to select the required option.
Select Wipe data/factory reset option.
Select Delete all user data.
Click on Reboot system now option when the process is complete.
Also Read: Remove Google FRP lock in Samsung without PC
You can also factory reset your Samsung mobile using third party apps. You need to connect your Samsung phone to your PC using USB cable.
Then you have to install the ADB driver and Samsung phone specific drivers in your laptop/computer.
Now you also have to install third party recovery software in your PC. Now open the software in your computer and make sure phone is connected with PC properly.
Here you can follow the on screen navigation to format your Samsung phone without password. You can also format or factory reset your Samsung phone even when your phone is locked.
You can also hard reset Samsung phone using third party software like Dr. Phone and other software.
We have explained two main ways to reset your Samsung phone in details. It is very simple to reset samsung phone if you have password with you.
But it become somehow difficult if you don't have password with you. In that case you can format your Samsung mobile using recovery method.
Because you are required to provide mobile password to start the factory reset process from the settings.
We hope that you have found this post helpful to you. If you still have any question or feedback then let us know in the comment section below.
We always appreciate your valuable feedback and work to bring the best valuable content to our readers.
More Related Posts